I've mentioned before in previous blogs how much I love living very near NYC. I wish for time to see everything, read everything, experience everything, and eat everything I'd like to try in this world, alas, there are way too many things to do, see, experience than anyone can possibly hope to fit in in one life time! But I keep trying…
I've also mentioned in previous blogs that I have lunch once a week, during the "school" year, with a handful of assorted teachers from the local school district. It started when I was diagnosed with cancer, and has continued for nine years, and now, almost all of the teachers are now retired and able to do things during the week they could never have done before during the school year. So four of us headed into NYC on Wednesday, we all met at the Museum of Art and Design on Columbus Circle.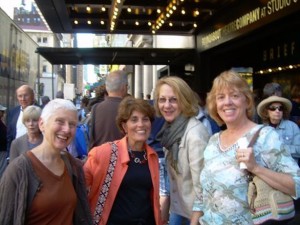 I timed everything just right on my own commute in, and arrived a good 45 minutes ahead of schedule. I wandered through the Time Warner building, looking at all the windows of the shops, they weren't open yet, taking notes on a couple of design details I'd like to try, and I wandered through Borders, which was open also taking some notes of books to add to my wish list. I went out and sat on a bench along Columbus Circle, near the museum, to wait for my friends. The weather was glorious, the traffic around the circle entertaining, the vendors hawking their tours, bike rentals and handsome cab rides were all out in force. The horse driven cabs were of course gorgeous, I was fascinated watching how the drivers deftly managed to weave in and out of traffic alongside cabs and buses and crazy commuters, while the horses, in all their ribboned finery, just clip clopped along paying no mind… (Did I think to get a picture?)
I love the Museum of Art and Design, their themed exhibits are alway interesting and thought provoking, great to see with a group of women friends, especially this group, a retired art teacher, music teacher and the Gifted and Talented program teacher. The discussions are fun, and meaningful, and provide great lunch talk. This exhibit in particular. The exhibit was called Dead or Alive, and all of the artworks were created using something that was once alive, but is now dead. Dead bugs, animal bones, Dandelion seed pods (I'm still trying to figure that one out, they are so fragile), dried sardines, silk cocoons, lots and lots of feathers, lots of social commentary, lots of decorative works, and my favorite, was a loom, sitting in the middle of the floor, in one of the side galleries, near it a pile of mouse skeletons,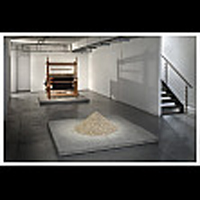 and on the loom, a beautiful grey cloth, upon close inspection (and after reading the wall description) turns out to have been made from mouse fur. OK, I know that's weird, but seeing a loom in an art exhibition is actually quite an anomaly, and seeing beautiful competent, usable cloth made from something so odd and revolting drew me in, in a way I can't quite describe. Of course I wasn't allowed to take a picture, the guard was standing three feet from the loom, but many of the works are in a virtual tour of the museum on their website, and the link for this image is wonderful. The thumbnail from the site appears here.
We all went to lunch in a sort of average uninspired trattoria calledRINO, (we are always trying new restaurants), my salad was good, avocado and shrimp, you can't go wrong with that combination, and we headed off to the theater. Brief Encounters just opened, I believe it is still in previews, fresh from "sold-out" performances in London, and I can say it was a lovely way to spend a Wednesday afternoon, the show is an interesting concept, and full of British humor and timing, and though the show overall seemed a bit silly, I'm glad I saw it and again, it made for interesting dialog afterwards.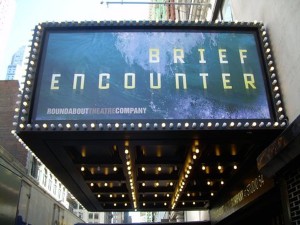 The premise of the show is a stage recreation of an iconic black and white masterpiece from 1945 of two strangers who meet at a train station, fall madly in love, and realize that they can't continue their passionate affair, as they are both married, with children. So clips of the film, seamlessly woven into the stage production, and some clever special effects, and some occasionally hilarious choreography and flawless British timing, made for an original piece of theatre, though in this day and age, the passions of two lovers captured in a period black and white film, are pretty lost on a contemporary audience. I am thinking the cast, many from the London show, mostly British, was thinking maybe their audience was mostly dead. The director Emma Rice claims that the 1945 David Lean's masterpiece film "Brief Encounter" is "almost part of their DNA in Britain". Since I doubt most Americans have ever seen the film, (or at least I hadn't), the premise of the show was sort of lost and came across as silly.
We all headed downtown after the show, and stopped at Thalia,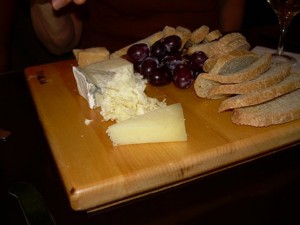 a lounge on 8th Avenue around 50th. We had wine and cheese, and Warm Molten Chocolate Cake for dessert, with a scoop of salted caramel ice cream and a scoop of pistachio. Can I say I died and went to food heaven? I highly recommend this restaurant, it is definitely on my "need to return" list. (My new favorite cheese is called Humboldt Fog!)
The day got even better. I walked my friends to Port Authority, where they all headed back to NJ, and I headed over to 35th and Park to the September meeting of the Textile Study Group of New York. I rarely am able to get in to the meetings, but I had to attend this one. The speaker was Iris Apfel, one of my fashion heroes, who calls herself a "geriatric starlet". Iris is 89 years old, and is considered a world class shopper, who spent her life collecting and mixing items, both high and low end, current and vintage, and has a collection of garments and accessories that has the MET salivating at her doorstep. A retrospective of her closet was mounted at the MET in 2005, titled Iris Apfel, Rare Bird of Fashion (I own the book of course), which then traveled to museums around the country, where I finally got to view it at the Nassau County Museum of Art. She and her husband Carl founded a legendary textile design company, Old World Weavers, which they ran until they retired in 1992. Old World Weavers restored many of the fabrics in the White House during the administration of several presidents. Can I say that Iris Apfel is probably the most interesting person I've ever heard speak, and I am so glad I was home long enough to be able to catch her lecture and I'm really really grateful to the Textile Study Group of NY for making her appearance possible.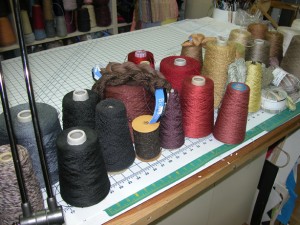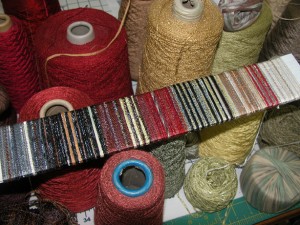 So I'm home now, preparing for the next trip, to Asheville, NC the end of next week. All the handouts, pattern paper, interfacings, and monographs have been cut, printed and shipped ( a big thank you to my son Eric for lending a hand), and the house is quiet, it is a lovely Saturday and I'm onto the next scarf warp on my loom. I've gathered the colors, using a more neutral palette, again drawing from one of my forecast palettes from Handwoven Magazine, and I finished the warp wrap, and will have lunch and start winding the warp.
Tomorrow I will be giving the keynote address at the North Jersey Chapter of the American Sewing Guild's Birthday Bash at the Barn in Clifton, which should be lots of fun, and I get to dress up in my handwoven clothes, and put on some make-up, and get out of the house for a few hours. I have the tendency to not get out of my pajamas on days where I don't have to go anywhere… :-)
Stay tuned…